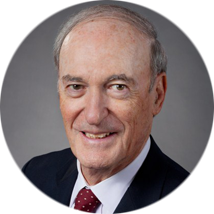 Charles Peter Daniel
Associate
Peter Daniel is a senior executive with over 35 years' experience in key management and communications positions in international organizations, the Canadian public service and the private sector. Peter has extensive experience working with ministers, deputy ministers, the Secretary General of NATO and the CEOs of some of Canada's largest corporations, training and preparing them for media events, important presentations, appearances before parliamentary committees and major speaking engagements.
Peter retired after four years as Executive Vice-President, Communications and Corporate Marketing of BCE Inc. and Bell Canada. Before joining Bell, he held a number of senior positions in the federal public service: Senior Vice-President of the Canadian International Development Agency; Assistant Deputy Minister of Communications at the Department of Finance; and Assistant Deputy Minister of Communications and Culture at the Department of Foreign Affairs and International Trade.
Peter also served abroad in 1993-94 as international advisor for media and broadcasting to the Transitional Executive Council governing South Africa in the transition to a multiracial democracy. From 1977 to 1980, he was the media spokesman for the North Atlantic Treaty Organization, returning in 1997 as NATO Director of Information and Press during the Kosovo conflict.
Peter began his career as a television journalist. He held positions with both CBC-TV and CTV News, as a national reporter in Montreal and Ottawa and as the Paris correspondent and bureau chief for the Canadian Broadcasting Corporation (CBC).